Fred Morris Wilkins, 74, of Superior, Colorado is a longtime white supremacist organizer. On June 2nd, 2021, Fred stole a number of Pride flags from a display in Louisville, Colorado, and put a Confederate flag in their place. Wilkins served as the leader of the Colorado Knights of the Ku Klux Klan (KKK) through the 1970's. An associate of David Lane, Fred made headlines in 1979 for threatening the life of Jewish talk radio host Alan Berg, who would be murdered by members of The Order just five years later. Wilkins left the Klan in 1980, following former Grand Wizard David Duke to organize with the National Association for the Advancement of White People (NAAWP). Click the title to read the full post.
Fred's full address and phone number are available on his public voter registration.
Fred first came on our radar when we were sent reports of a man desecrating a display of Pride flags in Louisville, Colorado. We were shocked to learn that the owner of this vehicle was once the leader of the Colorado Knights of the Ku Klux Klan.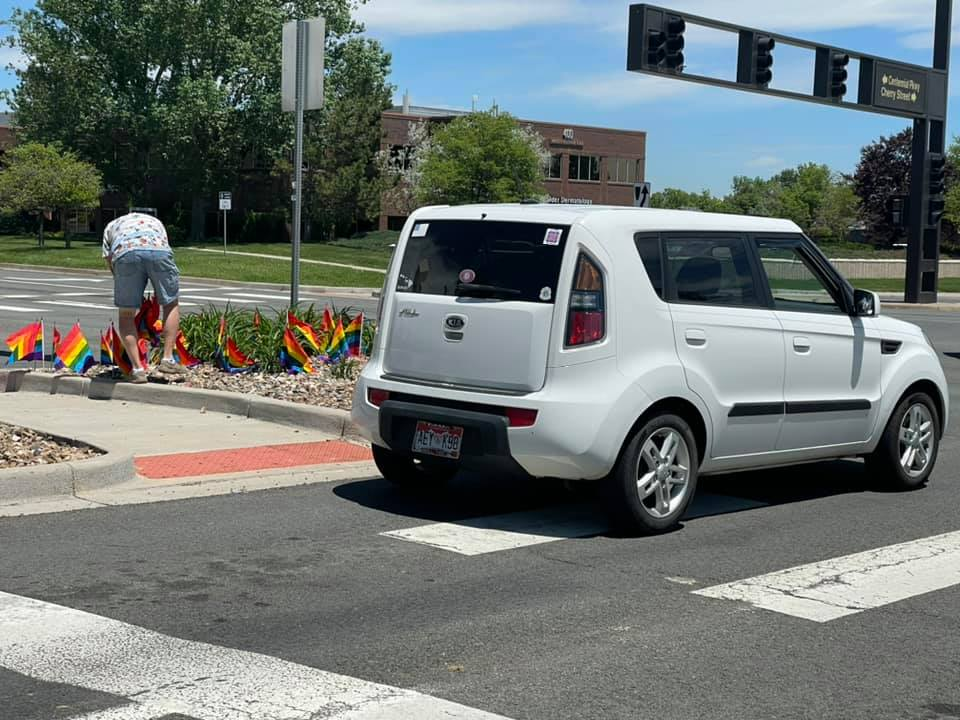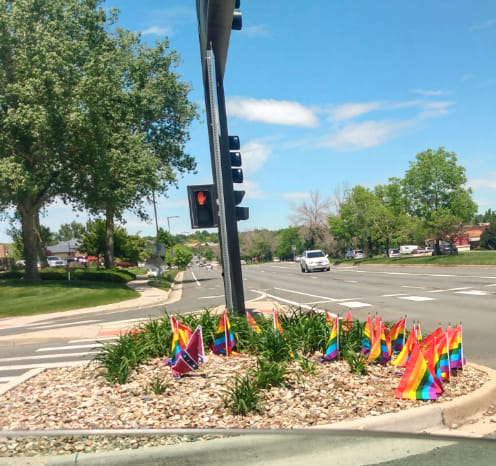 Grand Dragon of the Colorado Klan
Fred Wilkins is no new-comer to being a racist piece of shit. He served as the Grand Dragon of the Colorado KKK in the 1970s, where he rubbed elbows with Grand Wizard David Duke and neo-Nazi David Lane. Wilkins' leadership overlapped with Ron Stallworth's infiltration of the Klan, and he was personally "conned" by the Black detective in phone conversations.
According to a daily news bulletin from the Jewish Telegraphic Agency, Wilkins stormed into talk radio host Alan Berg's Denver studio one day in 1979, following a heated call between the two men on Berg's show. Wilkins threatened Berg's life, and the Jewish talk radio host stated that the Klan leader was carrying a gun during the encounter. Wilkins was suspended (but not fired) from his job at the Lakewood Fire Department for the threat, and continued working at the department for another 20 years.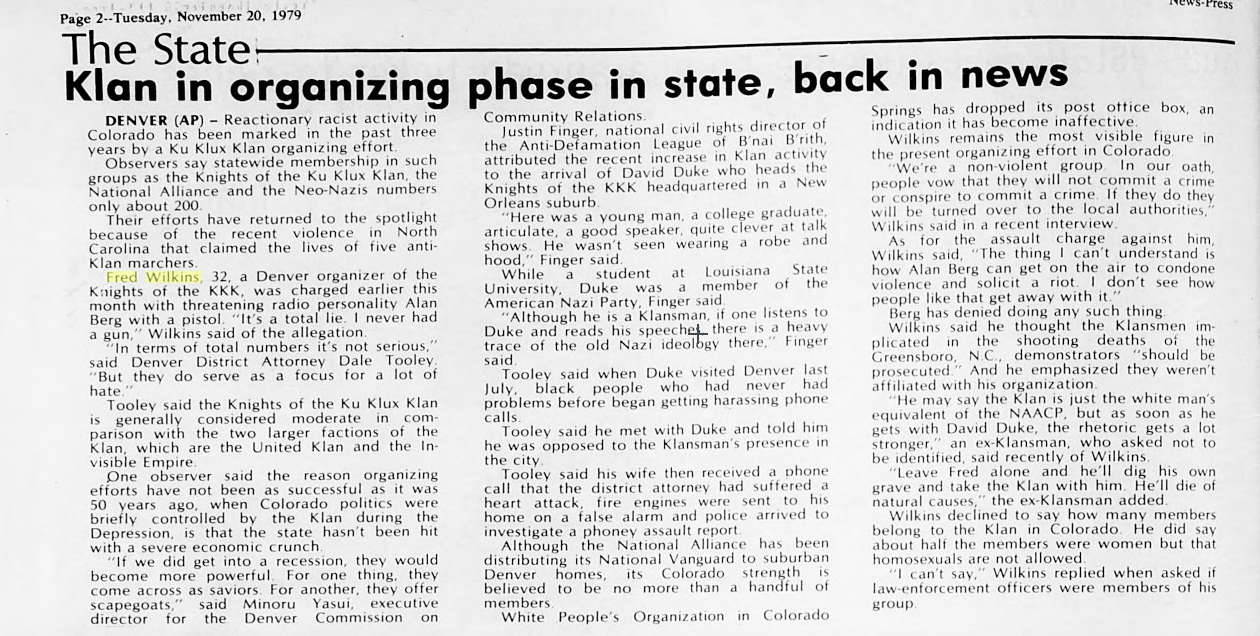 Most of our readers will probably recognize the name Alan Berg, because just five years later in 1984, he was gunned down in his driveway by members of The Order, a splinter group of the Aryan Nations. Bruce Pierce and David Lane were convicted for the killing. Lane, who drove the getaway car to and from Berg's murder scene and later died in prison, was a former KKK member who had organized alongside Wilkins until Wilkins kicked him out of the organization for distributing Nazi propaganda. In White Robes and Burning Crosses, author Michael Newton quotes Wilkins: "I ran him out of the Klan because I didn't like his way of doing things." Fred may have been more concerned about optics than Lane, but it was not beneath him to threaten violence against outspoken Jewish members of the community.
Fred Wilkins is mentioned in the notes from a 1981 U.S. Senate hearing on civil rights, which included a discussion on the Ku Klux Klan. The document notes that on July 1st, 1979, twenty Colorado Klan members protested outside of a synagogue in which the Colorado Zionist Federation was hosting a meeting. The document also states that at the Klan's national convention, Wilkins admitted to photographing license plates at the meeting in an effort to identify the names and addresses of Jewish attendees. The Grand Dragon encouraged convention delegates to subscribe to Jewish publications in order to obtain private information about Jewish community leaders. (We are pleased to give Fred a taste of his own medicine, albeit 40 years too late.)
Wilkins also made the news for his role in a racist counterprotest against a march for Chicano liberation. According to El Diario de la Gente, Wilkins, who wore Klan robes and carried a sign reading "WHITE PEOPLE WAKE UP," rammed an American flagpole into the chest of a Chicana woman, and she responded by kicking him in the nuts.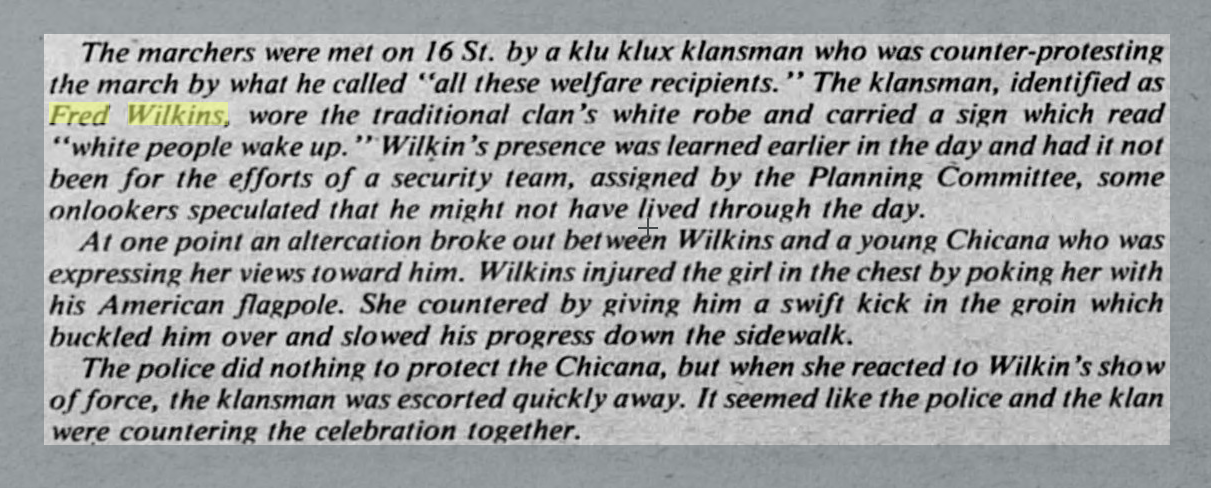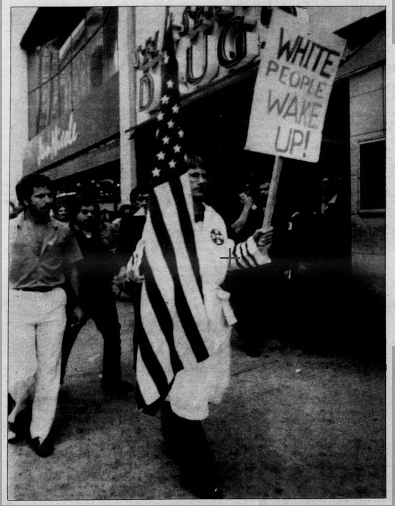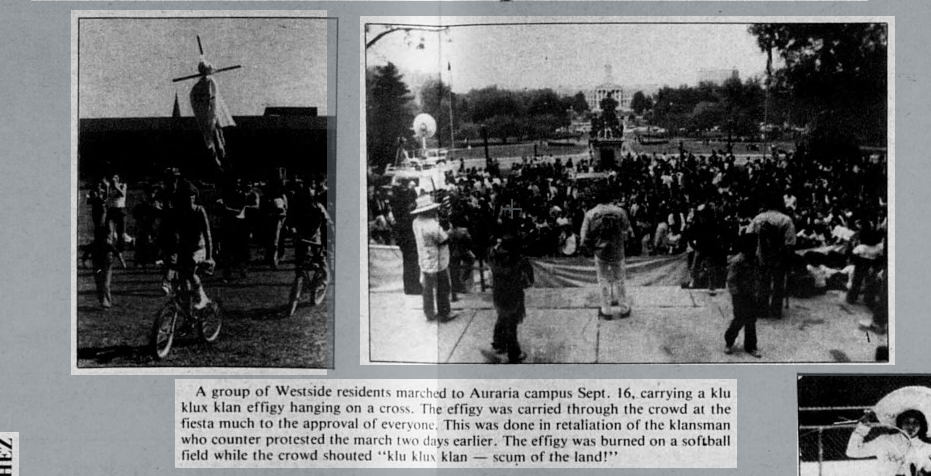 Wilkins eventually left the Klan in 1980, feeling that he could more effectively eliminate non-whites from the United States by hanging up his robes and following former KKK Grand Wizard David Duke to the National Association for the Advancement of White People (NAAWP). According to the Denver Post, Wilkins lamented the Klan's "negative image," stating that, unlike the KKK, the NAAWP should be considered "a pro-white organization instead of an antiblack one."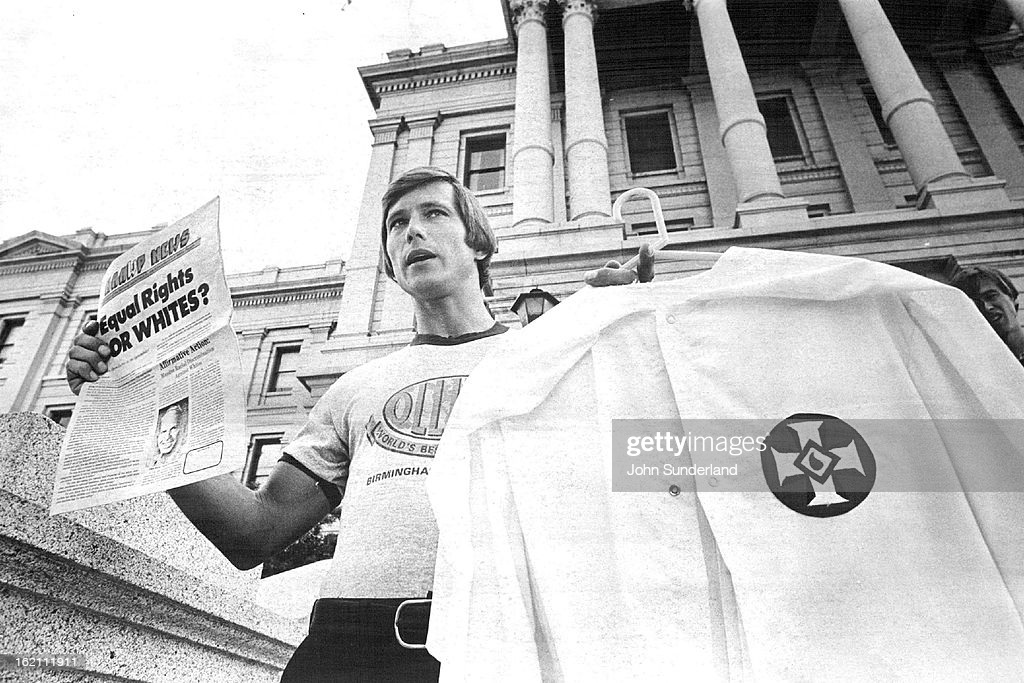 Conclusion
Just a day after he desecrated the display of Pride flags, Fred Wilkins was tracked down by law enforcement and cited for theft. This does nothing to address the fact that Wilkins has spent the last four decades making marginalized people unsafe, as a lead figure in a white supremacist organization that killed and harmed countless innocent people. As Angela Davis once said "It is not enough to be non-racist, we must be anti-racist," which means refusing to turn the other cheek to hateful bigots in our communities. The liberal tendency to avoid conflict with white supremacists for fear of "stooping to their level" is a form of enabling. This enabling is what kept Wilkins on the Lakewood Fire Department payroll for 25 years despite his open white supremacist organizing.
One simple, easy, and safe tactic to create consequences for Fred Wilkins' decades of hate is to let the community know who he is and what he has done. You can find a printable flyer here.
This research is dedicated to the five martyred anti-fascists who were killed by the Ku Klux Klan and the American Nazi Party in Greensboro, North Carolina on November 3rd, 1979.